20 Half Square Triangle Layouts to Inspire Your Next Quilt
This post may contain affiliate links, meaning I'll receive a commission if you purchase through my links, at no extra cost to you. Please read full disclosure for more information.
The Half Square Triangle block is one of the most popular quilt blocks. This simple block can be arranged in endless ways to create unique quilt designs.
The designs in this post were created using 80 Half Square Triangles (2 charm packs) and arranging them in an 8 x 10 grid.
Create your own designs by twisting and turning the Half Square Triangles or use one of the designs in this post to get you started on your next work in progress!
If you're a visual learner, check out the video tutorial I made about transforming 2 charm packs into 20 different quilt designs!
Get all of the Half Square Triangle designs delivered to your inbox by signing up for the free 2-page PDF download below!
1. Simple Repeat
Perhaps the simplest of the designs, placing the Half Square Triangles in one direction makes for a quick and easy quilt. The straightforward layout can be elevated by adding a border to the quilt top or playing with color. Imagine this design in a rainbow ombre – gorgeous!
2. Alternating Rows
Alternate the direction of the Half Square Triangles in each row to create a fun effect. Using a different fabric for each row or column would make this design pop!
3. Chevron
Chevron is a classic design and a simple chevron design made out of HSTs was the very first quilt I made! This is an adorable design that would be perfect for a baby gift!
4. Flying Geese
The Flying Geese quilt block is another super popular block! An easy hack to make Flying Geese is to put two Half Square Triangles together. This layout creates the Flying Geese look by using that method. Enjoy the flexibility of making an extra scrappy quilt by using this technique!
5. Dutchman's Puzzle
The Dutchman's Puzzle block is eight Flying Geese blocks in a rotating pattern. You can easily recreate this look with Half Square Triangles. The perk of using Half Square Triangles is that you can get a super scrappy look by mixing different fabrics for each half of the Flying Geese block.
6. Pinwheel
The pinwheel block is a classic quilt block made up of four Half Square Triangles. When you put multiple pinwheel blocks together you get a great effect. It looks super complex and interesting, but it's really just one block repeated!
7. Hourglass
The hourglass block is another classic quilt block made up of four Half Square Triangles. Use contrasting colors in your Half Square Triangle blocks to really make this design pop!
8. Sawtooth Star Variation
This design can be a bit complicated to lay out and make sure everything is turned the right way, but it's well worth it! Your eyes dance around this design and you can create balance by strategically placing your fabric.
9. Stripes
Get the look of stripes without the trouble of sewing long strips together with this Half Square Triangle layout. Arrange the triangles in a way where they form lines to create fun shapes without the fuss!
10. Radiating Lines
This is another layout that uses the Half Square Triangles to make lines. The creativity is endless when you arrange the Half Square Triangles in this way!
11. Square in a Square On Point
This funky layout is so fun and gives a great retro vibe. Play into the retro vibes by choosing some moody browns and oranges! Or create a softer look by choosing muted pastels.
12. Alternating Columns
Arrange the Half Square Triangles in opposite directions to create this alternating column look. The simple rotation of two blocks at a time creates this wonderful effect!
13. Double Radiating Triangles
This design could lend itself to being a bit too "busy" but I love how the squares in the center draw your eye immediately. Make the middle squares the darkest color and get lighter as you reach the edges of the quilt. Or make this one truly scrappy so that the eye can dance around the quilt as it pleases!
14. Ribbon
This pattern is super simple but packs a punch! I love how modern this design looks and it would be a great addition to any decor. Choose a fabric that matches or accents your living room to create a cozy throw!
15. Herringbone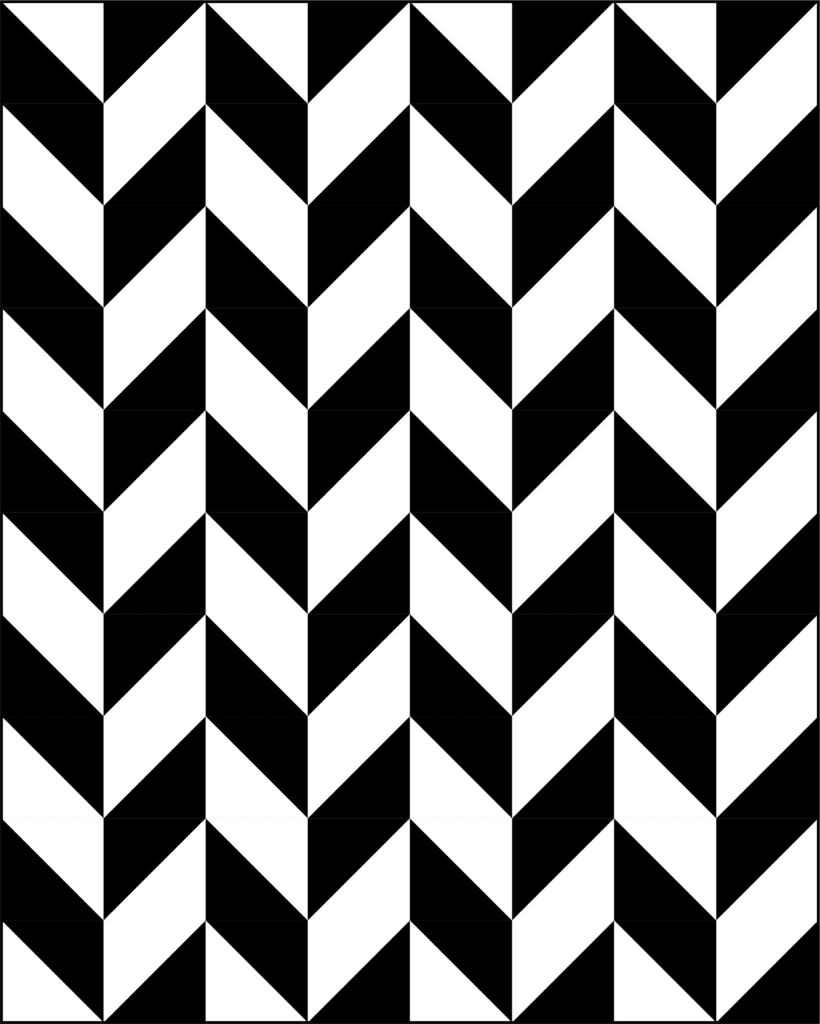 My all-time favorite pattern is the herringbone! This super classic design is playful yet sophisticated. Choose a contrasting fabric for your Half Square Triangles to get the best effect!
16. On Point Squares
Get an on point quilt without the fuss by creating this Half Square Triangle design! No bias edges are necessary to achieve this faux on point quilt!
17. Inverted On Point Squares
The same as the pattern before, these on point squares are simply inverted. All of the designs in this post can look different if you invert the colors, but I thought this pattern was especially striking when the colors are reversed!
18. Alternating On Point Squares
Combine the on point and inverse on point squares to create this wonderfully fun design! I love how the secondary design creates star and butterfly blocks.
19. Radiating Triangles
Choose the center point of your quilt and arrange all of the triangles to face away to achieve this spectacular look. You can change the focal point by putting it in one of the quarters of the quilt to give it a different vibe, too!
20. Starburst
This one is a bit challenging to arrange, but the effect is well worth it! This starburst is sure to WOW and it's a great pattern to play with the color and value of your fabrics.
Sign up to receive a 2-page PDF download of all the Half Square Triangle layouts in this post!
I hope these HST layouts inspired you and I'd love to see the designs that you come up with on your own! Send your quilt pictures to me at [email protected] or tag me on social media @haileystitches to share your work!
Other Posts You May Like:
25 Free Half Square Triangle Quilt Patterns
How to Piece Quilt Backing
How to Sew Simple Quilt Borders for Beginners
Why is My Rotary Cutter Not Cutting?